VERTICAL FEED / DEEP ACCESS
Vertical Feed / Deep Access | A8D Option
OPTIONS FOR DEEP ACCESS APPLICATIONS
DeWeyl Tool has the wedge technology solution for all application needs. The following highlights a few of our many product offerings. Please refer to the Tool Options page for other design solutions to common problem situations that can occur during normal bonding applications.
VERTICAL FEED / DEEP ACCESS
DeWeyl Tool continues to offer the industry's first high technology bonding wedge for deep access applications, as well as for standard wire feed angles. Our Vertical Feed/Deep Access bonding wedges offer significant solutions in maintaining maximum looping and tail control.
Our product line includes a wide selection of Vertical Feed/Deep Access bonding tool solutions for manual, semi-automatic and automatic bonding equipment. A minimum of three material choices are available for your consideration: Tungsten Carbide, Titanium and Ceramic. Additionally, our vertical feed bonding wedges are offered with 45 degree, 52 degree and 60 degree feed hole angles.
DeWeyl Tool understands that today's complex Vertical Feed applications require gold bonding of .0007" diameter wire. Our extensive micro-machining experience has allowed the development of wedges for even .0005" (12.5 micron) wire diameter, utilizing bond lengths of .0005" (12.5 micron) and feed holes of .001" (25 micron).
The DeWeyl Vertical Feed tools, along with their basic design specifications, are indicated accordingly within our online and printed catalogs. Please visit the appropriate wedge style category for your specific needs, or consult your local representative or the DeWeyl factory to discuss your application requirements.
A8D Option for Vertical Feed/Deep Access Applications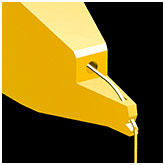 DeWeyl has developed an exclusive design for the Vertical Feed/Deep Access applications identified as the "A8D" option. This feature maintains maximum control during the looping and feeding operations of your equipment, and is highly recommended for maximum Vertical Feed/Deep Access performance. Please pay particular attention to the "Problem and Solution" drawings on the Tool Options page.
Note: The A8D option is not suitable with F&K Delvotec and Hesse Mechatronics machine.