TECH TIPS
The Bonding Tool Radius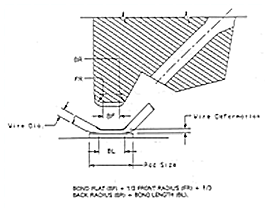 The front radius and back radius of the bonding tool can sometimes seem like something rather insignificant. But actually, the proper selection of radii, especially the back radius, is very important to the strength of the wire bond system. The FR and BR need to be modified based on the type of wire being bonding, i.e. gold or aluminum. You must also consider the wire size when deciding the size of the radius. Generally speaking, gold wire will use a smaller back radius to help cut the wire cleanly. Aluminum wire is harder and more brittle. It needs to have a smoother radius to prevent cracking of the wire.
Front Radius
The front radius of the bond tool needs consideration on the second bond. The first bond does not matter much with regard to the front radius. The front radius' main job is to offer a smooth and gentle transition between the bond flat and the wire diameter at the second bond contact. The most common choices for the front radius on .001" diameter wire is FR= .001" for both aluminum and gold wire.
Back Radius
The back radius is the critical radius. If this is selected incorrectly an aluminum wire may break very easily or a gold wire may not terminate properly. The most common choices for the back radius on .001" diameter wire is BR= .001" for aluminum wire and BR= .0005" for gold wire.