TECH TIPS
Concave Bonding Wedges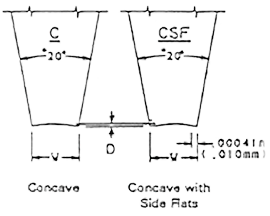 The Concave Bonding Wedge is offered for customers using small diameter aluminum bonding wire. Small diameter wire is generally viewed as wire that runs between .001" dia. Up to .002". Aluminum wire (small) is offered in the following diameters. .001", .00125", .0015" and .002". Anything over .002" diameter is usually considered a large wire application.
Additionally, the Concave Bonding Wedge is used for bonding aluminum wire, because the arch at the back of the bond foot offers additional material thickness, and thus strength for the wire. Aluminum wire is very brittle and needs this additional thickness to minimize the chance that the aluminum wire could easily break at the heel of the bond foot.
Concave With Side Flats
This tool is identical to the "Concave" tool and is used for the same reasons. However, occasionally we will have a customer using gold wire with the concave style tip. As a result, the outside edges of the wedge may contact the bonding surface when the bonding wire is deformed. To prevent the tool contact on the edges, we offer side flats to give extra clearance, thus eliminating the tool contact to the bonding surface.