Wedge Tip Styles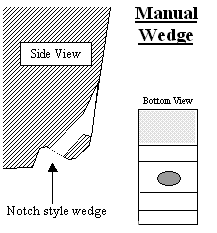 Notch Style Wedge | Box Style Wedge
The DeWeyl product catalog offers a significant variety of tools. The general difference between "Automatic" bonding wedges and "Manual" bonding wedges hinges on the difference between "notch" and "box" style wedges.

The Notch Style Wedge
We make several variations of the notch style tool. The notch style wedge is designed for use on manual wire bonders. The notch style wedge can be modified with more aggression than the box style.
For example, we can offer a narrower "W" dimension on a notch style because the walls of the box are missing from a notch style tool. Our "CS" series is the best choice for manual wire bonders and is especially useful for our microwave technology customers.
Why is the notch style a poor choice for automatic wire bonding equipment? If you look closely at the sketch of the notch tool you will see how the wire is free to move side to side once it exits the feed through hole. It is this characteristic that prevents the notch tool from being selected for automatic bonding applications. When a manual bonding operator looks through the microscope to place the wire bond he/she will target the wire to the bond pad. Thus, if the wire shifts side to side it does not pose any significant problem with regards to placement accuracy.
However, automatic wire bonders cannot see when the wire shifts from side to side. The auto bonder can only assume knowledge of the center of the wedge and thus attempt to place that wedge center on the center of the bonding pad. Thus, excellent wire centering is needed when operating an automatic wire bonder.
Notch style wedges: A, AS, CS & KS
The Box Style Wedge
This tool is best suited for automatic and semi-automatic wire bond equipment. Thanks to the tool design, the wire is contained from side to side movement until just before the bond foot area. This wire control helps keep the wire centered on the tool and offers enhancements to placement accuracy.
We offer many styles of boxed tools. Two examples would be the "CL" series and the other is the "CN" series. The "CL" series offers a bit more looping freedom than the "CN" style. Look closely at the "CN" catalog page and you will notice how the exit of the "CN" style is more restrictive than the "CL" style tool. This restriction can generate more drag on the wire during looping when compared to the "CL" series. Depending on the application, this extra wire drag will either be helpful or problematic.
Box style wedges: AL, AN, CL, CN, KN & KNL
Please contact the DeWeyl factory for application specific recommendations.